Leading internship in poultry medicine and production in an innovative practice
Our interns will have the opportunity to work within Poultry Health Services (PHS) and be able to complete the RCVS Veterinary Graduate Development Programme with their dedicated VetGDP advisor.
Poultry is the most innovative and dynamic sector in modern agriculture and PHS recognises its responsibility to ensure the sector is serviced by a modern, efficient and forward thinking veterinary service. PHS offers internationally acclaimed veterinary care for all poultry keepers, backed by the full range of diagnostic capabilities required by modern poultry keepers. The team delivers high quality services across commercial layers, broiler producers and gamebirds.
The company consists of nine strategically located practices in York, Sutton Bonington, Leominster, Hereford, Gloucester, Preston, Tarvin, Shrewsbury and Edinburgh, which are served by more than 20 specialised poultry veterinarians.
We actively encourage postgraduate degrees and engagement in poultry veterinary associations. Some of the qualifications that our veterinarians have achieved include Certificates in Poultry Medicine and Production, Welfare Ethics and Law and Laboratory Animal Science, MBAs and a variety of Masters degrees in diverse specialisms. We are also proud of having trained the first European Diplomate in Poultry Medicine in 2013.
You can download our current internship flyer here.
You can also read about the experiences of recent interns, Beth Sales and Elliott Boyd, in this article, "See your career take off with an internship at Poultry Health Services".
At the end of the internship the successful applicant will have achieved a good working knowledge of the structure of the poultry industry, from breeding through to processing in all domestic poultry species. PHS interns also benefit from our relationships with producers, pharmaceutical companies and integrators worldwide. An understanding of the relationship between bird health and welfare, farm management, nutrition, biosecurity, cleaning and disinfection procedures and vaccination procedures will also be gained. We offer a dedicated mentoring process to ensure that interns meet their training goals and fulfil the requirements of the RCVS VetGDP programme. The interns will gain an in depth knowledge of the most significant poultry diseases with an emphasis placed on epidemiology, pathogenesis, clinical presentation and lesions, diagnosis, control and treatment. They will gain the necessary skills, understanding and confidence to perform the appropriate routine diagnostic procedures unsupervised, including sample collection to properly investigate the most common clinical cases. During their time with the group, interns will achieve sufficient working knowledge of the available databases and software to interpret and input clinical data and develop the ability to generate the necessary reports and treatment regimes for the business they are working with.

Areas covered in the programme:
Industry structure and poultry production including: Broiler breeders, broilers, commercial layers, turkeys , game birds and ducks
Hands on experience including visits to: Poultry units, feed mills, primary breeding stock suppliers and hatcheries
Key poultry diseases: Epidemiology , diagnosis, treatment, control and prevention
Diagnostic procedures: Including clinical inspections, necropsy examination, coccidiosis screening and pododermatitis/gait scoring
Sampling techniques: Blood sampling, tracheal and cloacal swabbing, organ sampling, FTA paper impressions, water and environmental sampling
Laboratory diagnostics: Bacteriology, serology, histopathology, microbiology and molecular diagnostics
Data management: Data input and reporting and veterinary medicines prescriptions
Data management: Data input and reporting and veterinary medicines prescriptions
International CPD: Minimum of one international CPD course during the internship
Mentoring and clinical poultry club: Dedicated mentor and VetGDP Advisor and discussion of relevant cases with poultry colleagues in our regular poultry club meetings
Export certification: Certification of hatching eggs and day old chicks for integrators and genetics companies and products of animal origin (POAOs) for private clients
Testimonials
Leni Corrand was the first PHS intern and after completing his internship became the first European Poultry Diplomate through examination. Leni became a vet partner in his practice in France in January 2018:
"I followed the one-year poultry internship program in 2011/2012 at the York branch, a few years after my veterinary graduation in France. This internship allowed me to be exposed to daily clinical veterinary poultry work (necropsies, farm visits, laboratory diagnosis, vaccines and drug uses) under the supervision of knowledgeable colleagues. My time was also organised for me to discover different structures of the poultry industries (hatcheries, diagnostic laboratories, vaccines manufacturers, universities) and allowed to easily meet members of the British poultry veterinary world in professional meetings across the country. The internship year was officially recognised as part of my 5-semester Residency program for the European College of Poultry Veterinary Sciences (ECPVS) and ended up successfully with my certification as a European Diplomate."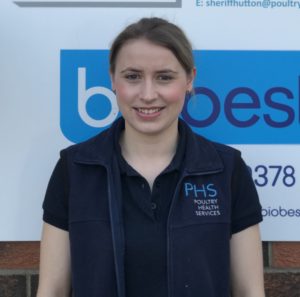 Megan Wood BVSc MRCVS, a 2018 University of Liverpool graduate, is one of our current PHS interns:
"I began the internship with PHS at the York branch at the start of 2021, a few years after graduating from the University of Liverpool. This internship allowed me to be exposed to a variety of both clinical and non-clinical poultry work with the supervision of experienced and knowledgeable colleagues, in a friendly and welcoming environment.
Although the pandemic meant that there were certain restrictions, my time was organised to allow me to discover different areas of the poultry industry (laboratory diagnostics, hatcheries, vaccine manufacturers and varied on farm work).
I have found the poultry industry so far to be pro-active and forward thinking with regards to poultry health and welfare and its use of veterinary services and diagnostics. I am thoroughly enjoying my internship so far and look forward to getting more involved in future as I continue to gain more knowledge and experience."
Helena Brewer BVM&S BSc MRCVS has now been working at Poultry Health Services for 4 years, having started her internship with us after graduating from Edinburgh University in 2017:
"I started my internship with PHS as I was looking for a way to be exposed to an industry that I had little knowledge of but knew I wanted to be a part of. When I graduated, the veterinary curriculum  gave little attention to poultry medicine, so I wanted to gain experience, whilst being supported along the way.
My internship allowed me to gain experience with a variety of systems within the poultry industry (for example, commercial stock, hatcheries, rearing farms and breeder farms). I also learned about pharmaceutical treatments and the multitude of preventative options available and rapidly realised how focused the industry was on preventative medicine.
I have now been with PHS for 4 years and I enjoy the proactive approach to poultry practice. I also like that I can see a difference to the birds (performance or welfare) from the interventions that I suggest. And every day is still a school day! The industry keeps evolving and I keep trying to get better results for our clients."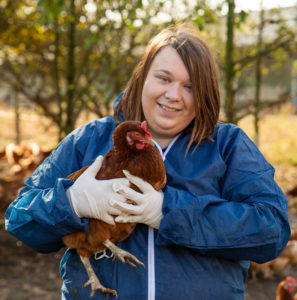 Our practice is growing all the time,
as we build our knowledge, our expertise increases too.